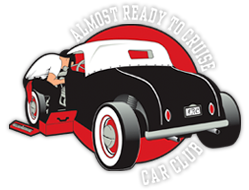 Join us March 5-6, 2021 for our 34th Annual Shawnee Swap Meet.
More info coming soon.
Notice
We are now accepting applications for new members. Please call Ronnie Drummond for more information: (405) 227-7388

About
The Almost Ready to Cruise Car Club has approximately 30 members and enjoys a variety of activities. From sponsoring car shows to setting up cruise-ins our members bring their 1930's to almost new cars to promote many worthwhile causes. We help sponsor Santa Fest (toys for children at Christmas time), Project Safe (shelter for abused women and their families), Faith 7 (sheltered workshop for adults with developmental disabilities), the Salvation Army Angel Tree (Christmas presents for needy children), and girl scout troops. We have assisted Little League teams and other children's groups with donations in the past.

Our biggest activity is the annual "Swap Meet" held the first weekend in March at the Expo Center in Shawnee, Ok. We have increased our space and can now offer inside spaces for all venders and those selling vehicles. We have over 150 venders from Oklahoma and surrounding states selling car parts and other auto related accessories.